NFO Agenda 2021 (detailed)
Thursday, August 19, 2021
All sessions will be recorded and available for later viewing. Unless otherwise noted, all sessions will be accessed using the same zoom link.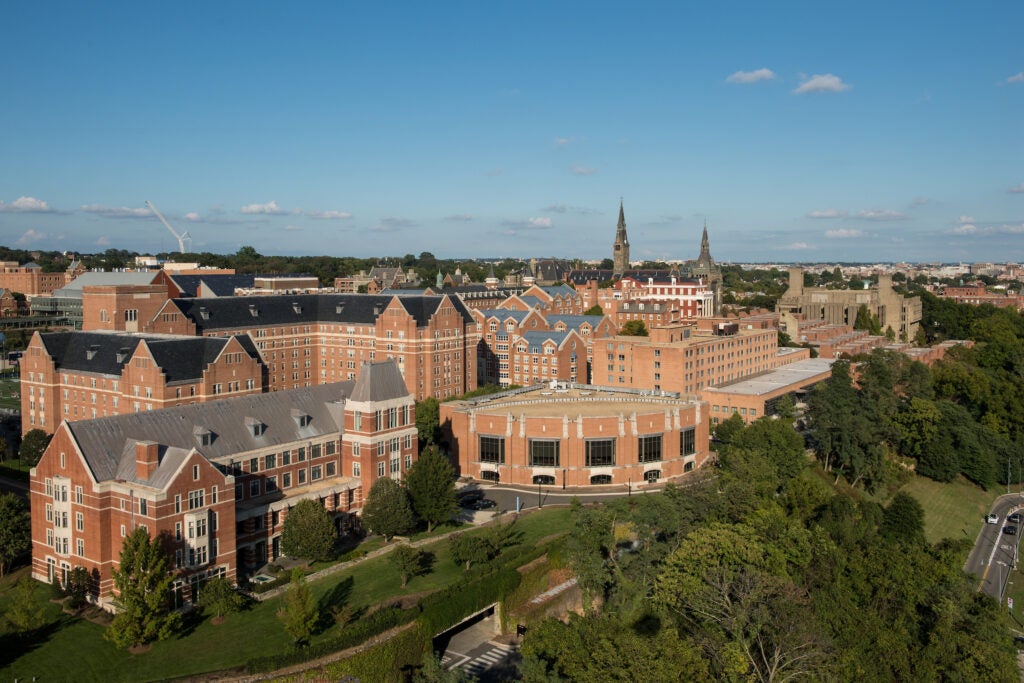 Welcome from Vice Provost Vaidya
9:15 a.m.
Join us for a kickstart to our orientation with a welcome by Chandan Vaidya, Vice Provost for Faculty
Introduction to our Jesuit Values
9:45 – 10:30 a.m.
The Vice President for Campus Ministry, Fr. Mark Bosco, S.J. will provide an overview of Georgetown's Jesuit and Catholic heritage, and the Mission and Identity of Cura Personalis. As the nation's oldest Catholic and Jesuit university, Georgetown's ideals and traditions are as much a part of its present culture as they were in 1789. He will discuss the values, principles, and goals that make up the Georgetown Mission. "Georgetown educates women and men to be reflective lifelong learners, to be responsible and active participants in civic life, and to live generously in service to others."
Welcome from President DeGioia
10:30-10:45 a.m.
President John J. DeGioia is looking forward to welcoming you as the newest members of the Georgetown faculty community.
---
Break
---
A Conversation with Provost Groves
10:50- 11:30 a.m.
Provost Bob Groves will discuss Georgetown University in relation to its strategic niche and the fall instructional model.
Overview of Benefits
11:30 a.m. – 12:30 p.m.
Learn about your benefits from Mike Fanning, Benefits Services Officer.
We offer a variety of online events and education to support you in taking full advantage of the benefits offered through Georgetown University.
---
Lunch Break
---
Diversity & Inclusion at Georgetown: Initiatives
1:30- 2:15 p.m.
Join Rosemary Kilkenny, Vice President for Institutional Diversity and Equity, as she discusses Diversity and Inclusion at Georgetown.
Georgetown University has initiated a variety of employment and educational programs and practices in support of Diversity, Equity and Inclusion to ensure that members of our community feel a sense of belonging. As we transition to having most of our community back on campus this Fall, it is essential that we redouble our efforts to recreate a respectful, welcoming and supportive classroom environment for our students to thrive. Let us explore together how to achieve that end.
---
Break
---
Principles and Practices of Inclusive Pedagogy
2:30- 4:00 p.m.
MC Chan, Maggie Debelius, Joselyn Lewis, & Edward Maloney, Center for New Designs in Learning & Scholarship (CNDLS)
This workshop will provide a space for new Georgetown faculty to discuss and explore principles and practices of inclusive teaching and learning, share concrete strategies for applying these ideas to the classroom, and think about who our students are, who we are, and how that informs what and how we teach. We will focus on evidence-based and practical pedagogical approaches that productively engage student identity and experience in the learning process and incorporate active learning techniques applicable across disciplines.
---
Break
---
Virtual Happy Hour with Faculty Leadership
4:15- 5:30 p.m.
Please join us for this happy hour, hosted by Chandan Vaidya, Vice Provost for Faculty, to have a discussion with faculty leaders on campus.
Ed Soule, Professor, McDonough School of Business and Chair of Main Campus Executive Committee
Susan Mulroney, Professor, Georgetown University Medical Center and President of Faculty Senate
Rohan Williamson, Professor, McDonough School of Business and Vice Provost for Education