Faculty Bios
2021 New Faculty
---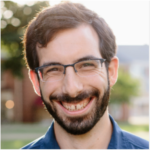 Peter Bonventre
Mathematics
Peter Bonventre is an Assistant Teaching Professor of Mathematics. His research is primarily in the field of algebraic topology, which seeks to understand spaces by applying tools from abstract algebra, but he also has published in physics and exercise science. As an instructor, he is dedicated to illustrating the breadth and beauty of mathematics to his students, as well as supporting their growth and different pathways to success in the classroom. Prior to joining Georgetown he was a Visiting Assistant Professor at Holy Cross and a Postdoctoral Scholar at the University of Kentucky. Peter received his Ph.D. in Mathematics from the University of Virginia, and graduated from Union College with a B.S. in Mathematics and Physics, minoring in Classical History and Ancient Greek. Outside of academia, he enjoys hiking, swing dancing, and playing the piano.
---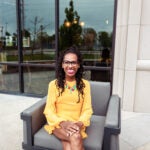 Nadia E. Brown
Government
Nadia E. Brown is a Professor of Government, Chair of the Women's and Gender Studies Program and affiliate in the African American Studies program. She specializes in Black women's politics. Nadia's research focuses on identity politics, legislative studies, and Black women's studies. While trained as a political scientist, her scholarship seeks to push beyond disciplinary constraints to think more holistically about the politics of identity. She is the author or editor of several award winning books, including Sisters in the Statehouse: Black Women and Legislative Decision Making; Sister Style: The Politics of Appearance for Black Women Political Elites (with Danielle Lemi); and Distinct Identities: Minority Women in U.S. Politics (with Sarah Allen Gershon). She also is the lead editor of Politics, Groups and Identities. Along with three co-PIs Nadia received a million dollar grant from the National Science Foundation for their project titled "#MeTooPoliSci Leveraging A Professional Association to Address Sexual Harassment in Political Science." She received herPh.D. from Rutgers University.
---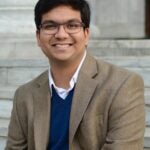 Shoumitro Chatterjee
McDonough School of Business
Shoumitro Chatterjee is a Visiting Assistant Professor in the McDonough School of Business and an Assistant Professor of Economics at The Pennsylvania State University. His research is at the intersection of trade and development economics and focuses on trade in agricultural markets, where he studies market power, inefficiencies, and low farmer incomes, and globalization and development. Previous employment included serving as an Economist in the Office of the Chief Economic Advisor of India. In 2019 Shoumitro was awarded the International Economics Research Annual Award by EXIM bank. He received his degrees in economics: Ph.D, from Princeton University, MA from the Delhi School of Economics, and B.A with Honors from St. Stephen's College. Shoumitro also is an avid birder and bird photographer.
---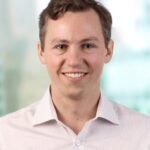 Killian Clarke
Center for Contemporary Arab Studies
Killian Clarke is an Assistant Professor in the School of Foreign Service, and affiliated with the Center for Contemporary Arab Studies. He studies the origins and consequences of grassroots mobilization and protests, and their contribution to transformative political events like revolutions, regime change, and democratization. Most of his research focuses on the Middle East and North Africa. Killian currently is writing a book on counterrevolutions which explains why some revolutionary regimes are toppled by counterrevolutions, while others survive fierce counterrevolutionary challenges or no counterrevolution. He also has studied political organizing and informal leadership among Syrian refugees, the dynamics of mobilization in the Arab Spring revolutions of 2011, and the Egyptian pro-democracy movement Kefaya. His research has been published in a variety of scholarly venues, including British Journal of Political Science and Comparative Politics. He received his Ph.D. in Politics from Princeton University.
---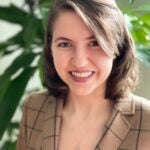 Alexandra DeCandia
Biology Department
Alexandra DeCandia joined the Biology Department as an Assistant Teaching Professor. She is passionate about wildlife conservation, science education, and outreach, and is thrilled to be joining the Hoya community. Alexandra earned a bachelor's degree in environmental biology from Columbia University, and interned at the American Museum of Natural History in New York City for two years. She earned a master's degree and doctoral degree in ecology and evolutionary biology from Princeton University, where she completed her dissertation research on wildlife conservation genetics, microbiomes, and disease. Alexandra additionally worked as a graduate teaching fellow at the McGraw Center for Teaching and Learning, where she discovered her passion for undergraduate and graduate education. After graduating from Princeton, Alexandra completed a postdoctoral research fellowship at Smithsonian's Conservation Biology Institute and National Zoological Park, where she used molecular tools to study wildlife in captivity and in the wild. Her study systems include gray wolves living in Yellowstone National Park, island foxes living in California's Channel Islands, and black-footed ferrets living in captive breeding facilities. At Georgetown, Alexandra is teaching Ecology + lab this fall, and is excited to share her love of science with students from all departments! 
---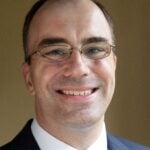 Quentin Dupont
McDonough School of Business
Quentin Dupont, S.J. is an Assistant Professor in the McDonough School of Business. His research interests include the role of trust in financial decisions, the consequences of misconduct, and corporate governance. Quentin's academic work has been published in the Review of Accounting Studies and the Journal of Business Ethics. He also has written about Catholic Social Teaching and about spirituality (e.g., in The Jesuit Post Book). Prior to joining Georgetown, Quentin completed a Ph.D. in Finance and Business Economics at the University of Washington; master's degrees in Finance and Banking (University of Paris), Business Administration (University of Washington), Philosophy (Fordham University), and Divinity and Theology (both from Boston College). His undergraduate degree in economics and accounting was earned at the Catholic University of Lille in France.
---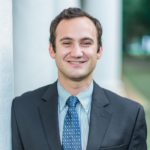 Brett Evans
Greek language and literature
Brett Evans is an Assistant Teaching Professor in Greek language and literature in the Department of Classics. His areas of expertise include Greek and Latin literature, chiefly Hellenistic poetry; ancient court societies; Greek Epigraphy; and textual criticism. Brett's research focuses primarily on the social status and function of Greek poets working in royal courts on the margins of the traditional Greek world. He is currently working on a book which examines how poets in Ptolemaic Alexandria competed for status with powerful courtiers by articulating their poetry's value in publicizing their patrons' court to broad audiences across Greece. He also has over ten years of experience advising students applying to nationally competitive fellowships such as the Fulbright. Brett received his Ph.D .in Classics from University of Virginia, MA from the University of Bristol where he was a Fulbright scholar, and BA in Classics from William and Mary.
---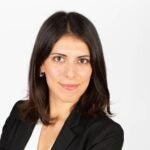 Monica Gamez-Djokic
McDonough School of Business
Monica Gamez-Djokic is a Visiting Assistant Professor in Management in the McDonough School of Business, and was previously a postdoctoral fellow at the Kellogg School of Management. Her research examines the psychology of morality with a particular focus on the dynamics of moral decision-making and behavior in the workplace. She also investigates the social and psychological consequences of new trends and changes in the labor market, such as how workers perceive and react to the rise of robots and automation in the workplace. Monica employs a range of methodologies including online studies, surveys conducted in the field, and laboratory experiments. She received her Ph.D. in Psychology from Northwestern University. In her free time she enjoys running, playing tennis and taking road trips to new places.
---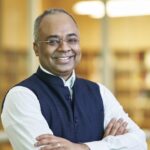 Gerry George
McDonough School of Business
Gerry George is Professor of Management in McDonough School of Business. Gerry teaches and publishes on innovation, entrepreneurship, sustainability and tackling grand challenges in society. Gerry achieved Web of Science Highly Cited Researcher distinction for Cross-Field Impact in 2019 and 2020. Previously, he served as Dean and Lee Kong Chian Chair Professor of Innovation and Entrepreneurship at Singapore Management University. Prior to that he was the Deputy Dean of Imperial College Business School in London, Founding Director of the Gandhi Centre, and Academic Director of the London Stock Exchange's Elite Program, which supports ambitious private companies through their next stage of growth. Gerry earned tenure at the London Business School and the University of Wisconsin-Madison. He received a Ph.D. in Management at Virginia Commonwealth University and a Master of Management Studies and Master of Science (Honours) in Biological Sciences at the Birla Institute of Technology & Science, Pilani, India.
---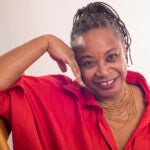 Anita Gonzalez
African American Studies, Performing Arts – Racial Justice Institute
Anita Gonzalez (Ph.D.) is a Professor of Performing Arts and African American studies and a Co-Founder of the Georgetown Racial Justice Institute. Her research and creative activity promote interdisciplinary, international and intercultural performance initiatives. Anita's edited and authored books include, among others, Performance, Dance and Political Economy; Black Performance Theory; Afro-Mexico: Dancing Between Myth and Reality, and Jarocho's Soul. Her essays appear in several edited collections including Black Acting Methods, The Community Performance Reader,and the Oxford Handbook of Dance and Theatre. She has published articles in the Radical History Review, Modern Drama, Performance Research International, and Dance Research Journal. Anita also directs, devises and writes theatrical works. Her innovative stagings of historical and cross-cultural experiences have appeared on PBS national television and at Lincoln Center Out-of-Doors, among other national and international venues. Her short libretto Courthouse Bells will be produced by Boston Opera Collaborative in 2021-22. Anita also engages the public through the creation of massive open online courses: "Storytelling for Social Change" that has reached over 40,000 learners to date, and "Black Performance as Social Protest." Her innovative work has been recognized by the award of several fellowships. Anita received her Ph.D. from the University of Wisconsin-Madison, MA from American University, and BA from Florida State University.
---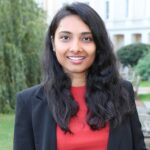 Amrita Kundu
McDonough School of Business
Amrita Kundu is an Assistant Professor of Operations and Information Management in the McDonough School of Business. She conducts interdisciplinary empirical research to discover ways in which businesses can create social value. Amrita particularly enjoy hands-on fieldwork- driven empirical projects where she can engage with stakeholders to identify research questions rooted in local context. Previously, she worked at the World Bank in Washington D.C.
Amrita completed her Ph.D. in Management Science and Operations at the London Business School and was a postdoc from the Stanford Graduate School of Business.
---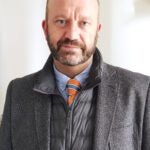 Juan Luis Manfredi Sánchez
Center for German and European Studies (CGES)
Juan Luis Manfredi Sánchez is the Visiting Prince of Asturias Chair in the Center for German and European Studies (CGES) in the School of Foreign Service. He has written extensively (14 books; 50+ articles) on international relations and diplomacy, communication and technology, and political risk and the liberal order. Juan currently directs the research project "Public diplomacy of Latin-American mega-cities: communication strategies and soft power to influence global environmental legislation." His previous research included "Public communication, transparency, accountability and participation in local governments" and "European Media Policies Revisited: Valuing & Reclaiming Free and Independent Media in Contemporary Democratic Systems," among other topics. He has received funding from the U.S. Department of State to promote innovation, entrepreneurship, technology, and freedom of expression in journalism. Juan is a tenured Associate Professor at the University of Castilla-La Mancha, where he teaches Journalism and International Relations in the School of Communication, Law and Social Sciences, and the academic director of the Observatory for the Transformation of the Public Sector (ESADE Business School, Madrid campus). Juan earned his Ph.D. in Communications from the University of Seville and an International Executive MBA from the IE Business School in Madrid, Spain where he currently lives. He likes to read, run (10k), and cook.
---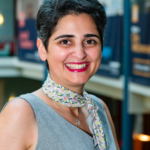 Emisa Nategh
McDonough School of Business
Emisa Nategh is an Assistant Teaching Professor of Operations and Information Management in the McDonough School of Business. Her data-driven research interests range from designing pricing systems in crowdsourcing and sharing economy/on-demand platforms, to healthcare analytics for discovering the best sequence of treatment for cancer patients. Emisa's current research is integrating machine learning and natural language processing with statistics to develop statistical learning models applied to real-world data. Previously she was a research scientist at Convoy Inc., and a machine learning/NLP scientist at Fred Hutchinson Cancer Research Center.Emisa received a Ph.D. in operations management and a M.S. in Business Administration from the University of Washington, a M.Sc. in marketing analytics from the University of Rochester, and a M.Sc. in applied mathematics concentration on optimization and a B.Sc. in applied mathematics concentration on statistics from Sharif University of Technology, Iran. Outside of academia, she enjoys playing the piano and Persian dulcimer, Persian dancing, playing ping pong and table football, and hiking. She also is a foodie.
---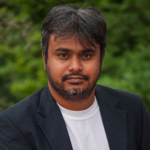 Nakul Padalkar
Data Science and Analytics
Nakul Padalkar is an Assistant Teaching Professor in the Department of Data Science and Analytics in the Graduate school of Arts and Sciences. His research focuses on the application and adoption of disruptive technologies for social and industrial uses, with a focus on Blockchain and Machine Learning. Nakul's current research in blockchain revolves around the Traceability and Transparency of supply chains, focusing on the chain of custody. He also has considerable industrial experience in developing, managing, and successfully deploying manufacturing and software projects, and maintains a research and information exchange relationship with firms involved in technical project implementation. Nakul holds a Ph.D. from Texas Tech University in Management Information Systems with a focus on Machine Learning, Explainable AI, and Blockchain, and three masters degrees: a MS in Technology Management focused on Project and Quality Management, a MS in Physics with a focus in Optics and Color Science, and a MS in Industrial Engineering focusing on Stochastic Processes. In his spare time he loves to camp, hike and work on nature photography.
---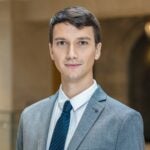 Charly Porcher
McDonough School of Business
Charly Porcher is an Assistant Professor in the McDonough School of Business. He is an economist with research interests in international trade, urban economics and migration economics who studies how firms and workers respond to an increasingly globalized world. His research interests range from understanding how migrants' lack of information affect their chances of accessing economic opportunities elsewhere, and how remote work will transform the organization of firms and the structure of cities, to finding regional economic policies to curb deforestation in the Amazon forest. Previously he was a Postdoctoral Fellow in International Economics at Dartmouth. He received a Ph.D. in Economics from Princeton University; M.A. in Economics from Sciences Po and ENSAE, France, and B.A. in Applied Mathematics, Ecole Polytechnique, France. Originally from France, Charly's favorite hobbies are to hike, bike and run around America's natural and urban landscapes and meet the great people who inhabit them. His second favorite hobby is eating croissants.
---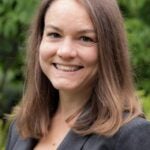 Krista Ruffini
McCourt School of Public Policy
Krista Ruffini is an Assistant Professor in the McCourt School of Public Policy. She is an economist who analyzes how government policies targeted to disadvantaged populations affect labor market, education, and health outcomes. Her current work includes examining the effects of nutritional assistance programs on family well-being; evaluating housing strategies targeted to families with engagement with the child welfare system; and exploring the distributional effects of minimum wages on the long-term care sector. Previously Krista spent the 2020-21 year as a Visiting Scholar at the Minneapolis Federal Reserve's Opportunity and Inclusive Growth Institute. She received her Ph.D. and MA in Economics from UC-Berkeley; a MPA from the London School of Economics; and a BA in Economics, International Relations, and Political Science from Boston University.
---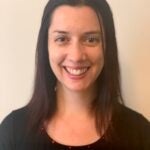 Nadja Tadic
Linguistics
Nadja Tadic is an Assistant Teaching Professor in Discourse Analysis in the Linguistics Department. She received her Ed.D. in Applied Linguistics from Teachers College, Columbia University. Her research is concerned with examining issues of diversity, (in)equity, and social (in)justice as they arise in classroom interaction. Her work has been featured in edited volumes as well as in journals such as Language and Education and Linguistics and Education.
---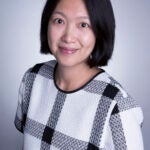 Ayung Tseng
McDonough School of Business
Ayung Tseng is Visiting Assistant Professor in Accounting. Before MSB, she was Assistant Professor in Accounting at Kelley School of Business, Indiana University. She received her Ph.D. from Columbia Business School and MBA from Yale School of Management.
Her research explores how accounting information reflects business fundamentals and enhances business decision-making by connecting with interdisciplinary theories—for example, using tacit collusion theory to explain accounting disclosures among the Big Three U.S. automobile manufacturers, employing attribution theory to understand how firms disclose after business crises, utilizing microeconomic theories to explain why some firms are more subject to systematic risks and why some mergers yield more significant synergies. Her research has appeared in the Accounting Review, Management Science, Review of Accounting Studies, and Journal of Portfolio Management. She founded the Accounting Design Project with Stephen Penman, promoting research that evaluates and designs accounting for users, whether investors, equity or credit analysts, management, or broader constituents.
Ayung enjoys theatre and outdoor activities.
---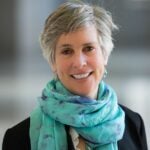 Cecilia C. Van Hollen
Asian Studies Program and Science, Technology and International Affairs (STIA)
Cecilia Coale Van Hollen is a Teaching Professor in the Asian Studies Program in the School of Foreign Service. She is a cultural and medical anthropologist specializing in social and cultural dimensions of health, medicine, and global public health policy in India. Her ethnographic research explores the intersections of class, caste and gender as women seek care for reproductive health, HIV/AIDS, and cancer in Tamil Nadu, South India. Through her work she aims to provide insights for policymakers working in global and public health. Van Hollen is the author of three books: Birth on the Threshold: Childbirth and Modernity in South India; Birth in the Age of AIDS; Women, Reproduction, and HIV/AIDS in India; and Cancer and the Kali Yuga: Gender, Health and Inequality in South India. She is also the co-Editor of a Companion to the Anthropology of Reproductive Science and Technology. Van Hollen previously served as the Head of Studies for anthropology at Yale-NUS College (Singapore), on faculties of anthropology at Syracuse University and the University of Notre Dame, and has been a visiting adjunct professor for Asian Studies and Science, Technology and International Affairs (STIA) at Georgetown. She received her BA from Brown University in Anthropology and religious studies; an MA in anthropology from the University of Pennsylvania; and a Ph.D. in medical anthropology from the University of California-Berkeley and UC-San Francisco. Her favorite hobby is hiking in the Green Mountains of Vermont. For more information see: https://www.ceciliavanhollen.com/
---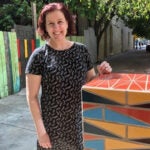 ​Rachel L. Wellhausen
McDonough School of Business
I am an Associate Professor of Government at the University of Texas at Austin, with an appointment in the Business, Government, and Society Department at the McCombs School of Business. In 2021-2022, I am a Visiting Associate Professor at the Georgetown McDonough School of Business, in the Strategy, Economics, Ethics, and Public Policy (new window) group. My primary field of interest is international political economy, and specifically the political economy of international investment and finance.
I have published in the American Political Science Review, American Journal of Political Science, International Organization, Journal of Politics, Quarterly Journal of Political Science, AEA Papers and Proceedings, British Journal of Political Science, International Studies Quarterly, Journal of Conflict Resolution, Review of International Organizations, Cambridge University Press, MIT Press, and other outlets. I received the Best Book Award (2015-2017) from the International Political Economy Society for The Shield of Nationality: When Governments Break Contracts with Foreign Firms (new window) (Cambridge University Press 2015). I also received the Michael Wallerstein award for the best paper in political economy (American Political Science Association, 2016); and the Mancur Olson award for the best dissertation in political economy (American Political Science Association, 2011-2012). I hold a M.Sc. with Distinction in European Political Economy: Transition from the London School of Economics. I am a graduate of the Honors College at the University of Arizona with a B.A. in Economics, a B.A. in English with Honors, and a B.A. in Interdisciplinary Studies (Russian Studies, German Studies, and Political Science).
---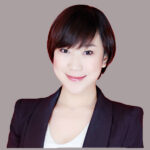 Chao Yu
East Asian Languages & Cultures
Chao Yu has taught all levels of Chinese language courses and Chinese Masterpieces in Translation. Before joining Georgetown University, she taught Chinese language courses at Johns Hopkins University, Middlebury College (Middlebury Language Schools), Princeton University (Summer Intensive Program in Beijing PIB), United Nations, StarTalk program, East Stroudsburg University, and ALLEX Foundation at Washington University in St. Louis. She received her M.A. degree in Education at Elmira College and B.A. degree in Teaching Chinese as a Foreign Language at Xi'an International Studies University. Her research interests include pragmatic failures, Chinese pedagogy, and curriculum design.
---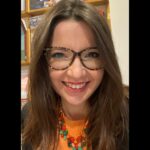 Viktoriya Zotova
McDonough School of Business
Viktoriya joined Georgetown in Fall 2021. Her prior work includes 3 years as Research Analyst at the International Monetary Fund (IMF) Monetary & Capital Markets Department (MCM). She is a certified Sustainability and Climate Risk professional and a member of the United Nations Association-National Capital Area.
Primary research focus: Viktoriya's research interests include climate change transparency, capital flows, and economics of disclosure regulation. She has published in IMF outlets on capital flows and is a co-author of a book chapter on China's capital market liberalization. She has also received federal funding for research on international investments of US corporations.
Teaching: Introduction to Managerial Accounting (UG)(Fall 2021). UMD – Principles of Financial Accounting (UG).
Education: Ph.D. (Business and Management, Accounting and Information Assurance) from the University of Maryland and BA (Economics), St. Norbert College, De Pere, WI.
Outside interests: Music (piano and organ), painting, alpine skiing, travel
---